Vion Zlate Moravce to loan 3 Young Tigers
Wan Zack Haikal (striker, winger)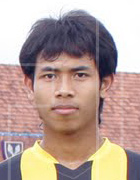 Irfan Fazail (midfielder)

Fadhli Shas (defender)

Wan Zack Haikal, Irfan Fazail and Fadhli Shas have caught a Slovakia's Corgon League club,Vion Zlate to play with them as loan players for 3 months stint.
According to Young Tigers coach, Ong Kim Swee if all was materialised these 3 players would not be going back with them for Hari Raya.
As for record, currently Vion held in second standings in Co
rgon League behind leaders, Slobodan Bratislava who plays in Europa League with only 2 points adrift.
QPR will give training stints for Safee and Khairul Fahmi
Do i need to name these 2 players above?
It was stated by many mainstream media that QPR are alleged to have 2 our nationals players, Safee Sali and Khairul Fahmi Che Mat training with them. However it does not stated when or how long the training stint it will be held.
I believed all Malaysian are excited knowing this but hold off your breath as an EPL promoted club QPR would not be able employ any Malaysian players the same with any other EPL bounded clubs as regulatory to allow only players from nations below 100th FIFA rankings.